Drama Opportunities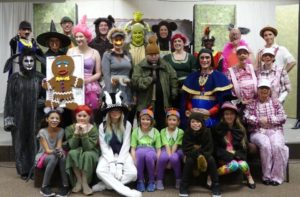 Fools for Christ is a dramatic ministry group in partnership with St. Stephen and Christ the King Lutheran Churches. We are honored to be active in ministry at both St. Stephen and Christ the King, and have members of both congregations count themselves as "Fools" for Christ.
We have also recently greatly expanded our own presentations, including our now annual Winter Dinner Theater, our traditional worship during Holy Week at St. Stephen, and our presence in worship, children's ministry, and other events at both our partner congregations.  We have also presented three full length musicals: "Joseph and the Amazing Technicolor Dreamcoat" in 2012, "Scrooge the Musical" in 2014, and "Shrek the Musical" in the fall of 2016. This bi-annual tradition has been an amazing success, with Shrek selling out all 5 shows.
Fools for Christ has recently announced the addition of a bi-annual Fall Dinner Theater at Christ the King. The first one is scheduled for October 27 & 28, 2017.
Anyone and everyone can be a "Fool" for Christ.  We are proud that our group is multi-generational and inclusive and indeed many families participate together.  If you want to be involved in one of our events you will be, and you are always welcome here.
If you'd like to know more about Fools for Christ, you may find their website here or contact Scott Freburg, CTK's liaison to Fools for Christ.